Liquid whey and whey powder made from sheep's of goat's milk are becoming more popular for use in several food products all over the world. It is a major concern for the dairy industry, the control agencies and the consumers that these whey products are free from cow's milk and cow's whey. This is especially important for consumers with a cow's milk allergy or intolerance.
Adulteration of goat's or sheep's whey with cow's whey can occur accidently during transport and production, or it can be the result of fraud. The exclusion of such fraud is included in various quality criteria for the dairy industry (IFS, BRC, FSSC22000)
For this diagnostic purpose, R-Biopharm Nederland has launched the EuroProxima PLUS Cow's WHEY ELISA. This competitive ELISA test is validated for liquid whey, as well as for powder whey. The validation is done with several samples for the dairy industry. The total incubation time of the test is only 45 minutes and the results are expressed as percentage cow's whey in the sample.
Together with the PLUS Cow's Milk ELISA, the PLUS Cheese Fraud ELISA and the PLUS Bovine Rennet Whey ELISA, R-Biopharm offers with the PLUS Cow's Whey ELISA a adjective portfolio of fast and reliable laboratory tests for the detection of cow's milk in milk and milk products of other species.
The PLUS product line for the dairy industry: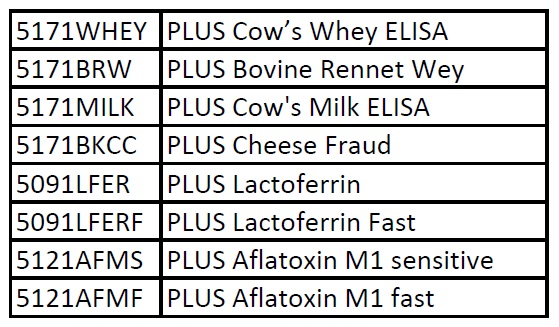 For additional information about this new test, please contact us at [email protected]